Without a doubt this is the car rolling out of my garage for a ride on a sunny day. Out of all our Corvettes so far, this one is my favorite driver. Start with the 6-speed. Even though I learned how to drive a stick-shift long ago this was the first time I've owned one. Next add the performance chip and air intake modifications, and round out the experience with the awesome Borla stinger exhaust? Forget it. This car rocks.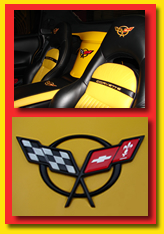 In 1999 my pregnant wife Nancy and I were touring the Corvette plant in Bowling Green, KY, dragging Alex along in a baby carrier. In the distance I saw a pair of yellow bumpers hanging amongst hundreds of others. I asked the tour guide about the yellow ones stating that "Corvette does not offer yellow". He replied with "Yeah, that's a new prototype color for next year...but you're not supposed to notice that...". I loved it; I was hooked and someday had to own one.
Since we've had the car I've done a number of additional modifications. The performance was there, but the interior was plain black and boring. I was drooling over some well-done yellow interiors, so Nancy surprised me one Christmas with a new set of custom seats and console. Then I added some other red body accents and a set of Corvette Z06 brake calipers with drilled and slotted oversized brake rotors.
I've had people uncomfortable just riding in this car because it's "too flashy and draws attention". I knew what they meant because I felt that way with my first Corvette. I don't like Corvette simply because it draws attention, but some people do. After a while you get used to it and ignore the stares and "challenges" by other drivers on the road. But if you happen to know me, you might know that I don't do things just to get attention. I drive this car because I absolutely love it. Put me in the desert alone with one car, one road, and no other people...and I pick this Corvette.