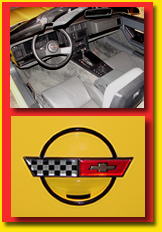 We always loved the Indy Pace Cars. After we got the 1978 pacer it was clear that the Corvette Indy Pace Cars were about to be a passion. This car became available a few months after we got our '78. And even though the timing was not ideal, if we were to set a goal to eventually go after Corvette Pace Cars this was exactly what we wanted in an '86.

All Corvettes in 1986 were designated "Pace Cars". That includes all colors, and I believe both coupe and convertible. 1986 also marked the return of the Corvette convertible which last appeared in 1975. But I regard the only true 1986 Corvette Indy Pace car as the yellow convertible with decals applied, including the windshield decal.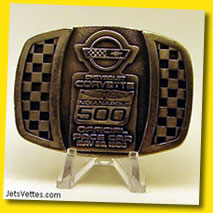 We bought the car from a collector in Downs, Illinois. He had it for over 10 years and purchased it from a collector in New Mexico. It spent a lot of its life sitting next to a Carroll Shelby edition 1996 Dodge Viper. An awesome car and hard not to gawk at while evaluating this Pacer on the day we bought it.

This car is perfect. Fully documented and absolutely gorgeous. All paperwork, history, window sticker, records, and definitely a candidate for my first Bloomington Gold certification attempt.