Family Vacation New York, NY, June 2007
As a family we are starting to crave really cool vacations and going places we've not been before. Early spring 2007 we were sitting at Cassler's for dinner discussing summer vacation possibilities. Options included Mt. Rushmore, Florida, Hollywood, a cruise, and other ideas. But as we talked, my 8 year old son Alex mentioned New York City. The rest of the family immediately agreed and we set our plans for early June.

Times Square Day 1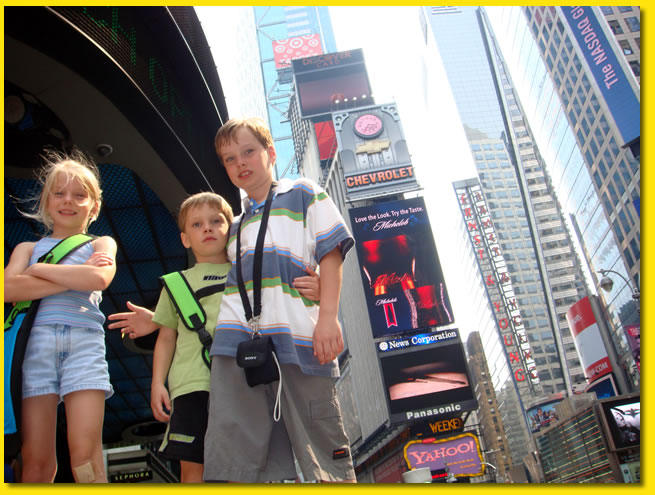 Brooklyn Bridge - Day 2 -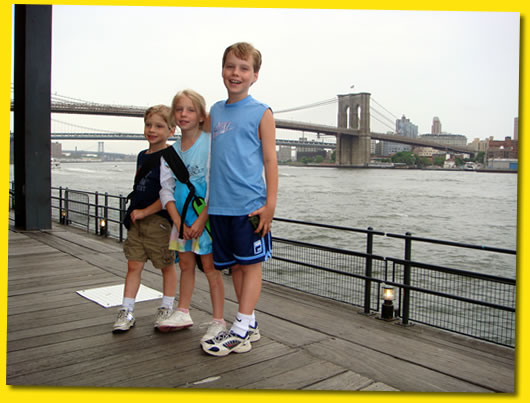 Ashley's Mega Pizza - Big New York style greasy slice of heaven!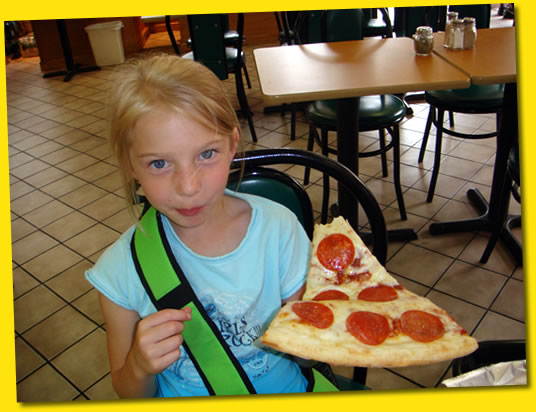 World Trade Center - Ground Zero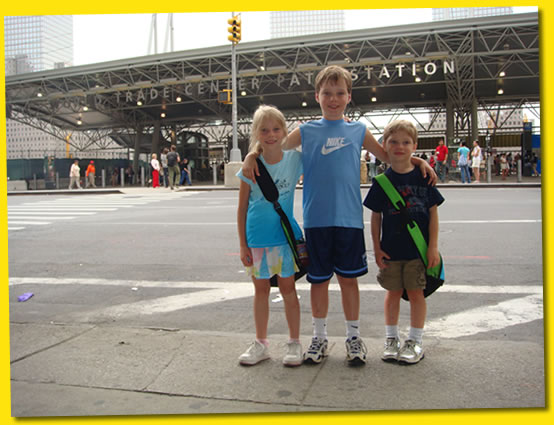 The Cross at Ground Zero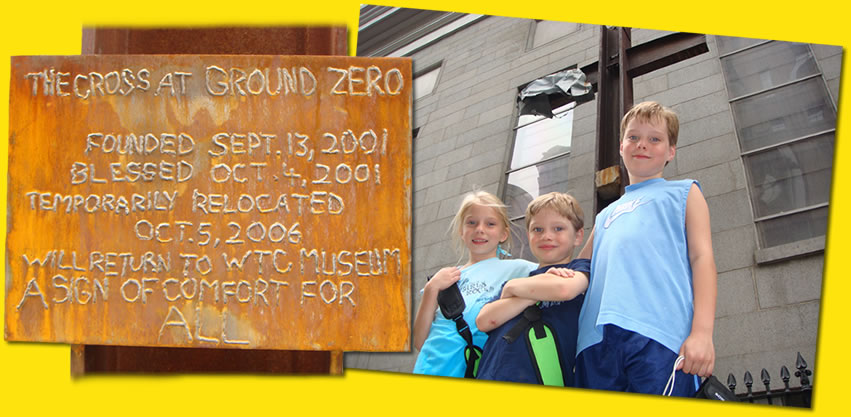 Ground Zero is under heavy construction, but the WTC Path Subway in the center of the site is operational. The entrance for the train is decorated with many collections of artwork done by the children of NYPD and NYFD people that died the day of the attack. This artwork was very touching.


Sunday Night Dinner at the Hard Rock - Times Square NYC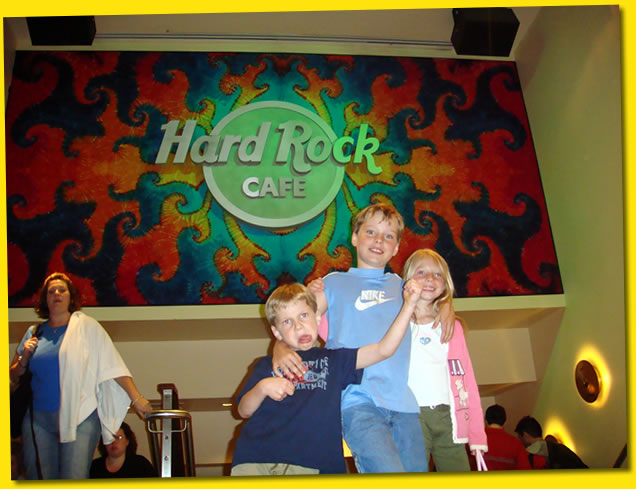 | | |
| --- | --- |
| | I have to give a nod to JetsVettes on our NYC Vacation. This is a limited edition Hard Rock Cafe Corvette lapel pin. Alex and I both scored one of these great pins. |
Ashley and Nancy's favorite part...Shopping!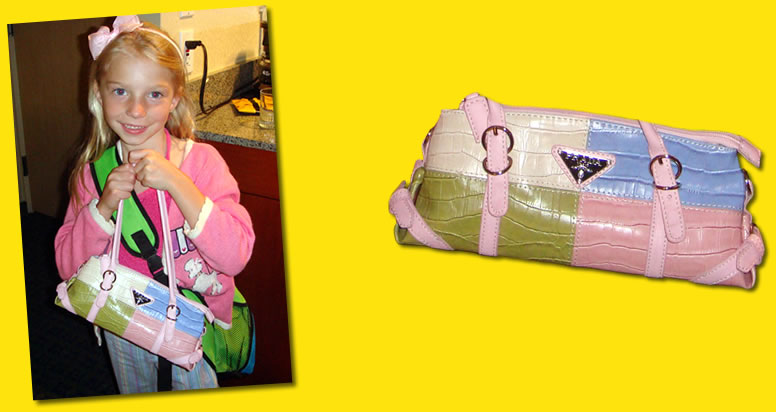 -- Day 3 --
Pouring rain for our Empire State Building visit. The observatory had zero visibility so we will have to try again later.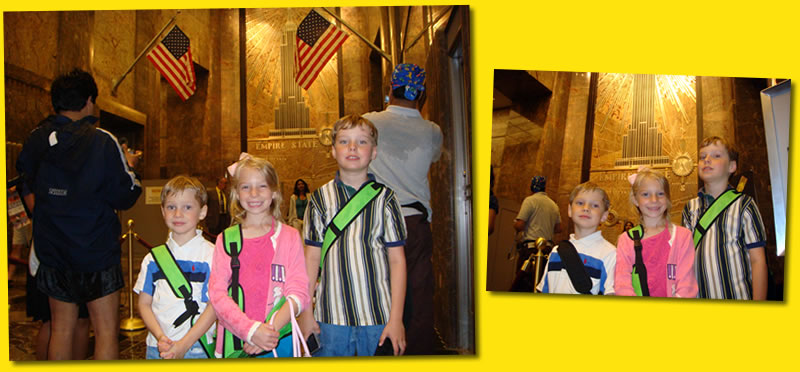 In the pouring rain Max kept kneeling down on sidewalk grates worrying about "the Ninja Turtles getting wet?"
This was our night for a really nice dinner. We all got dressed up and headed out... Trump Tower was a stop along the way.

Tavern on The Green, Central Park, our special dinner.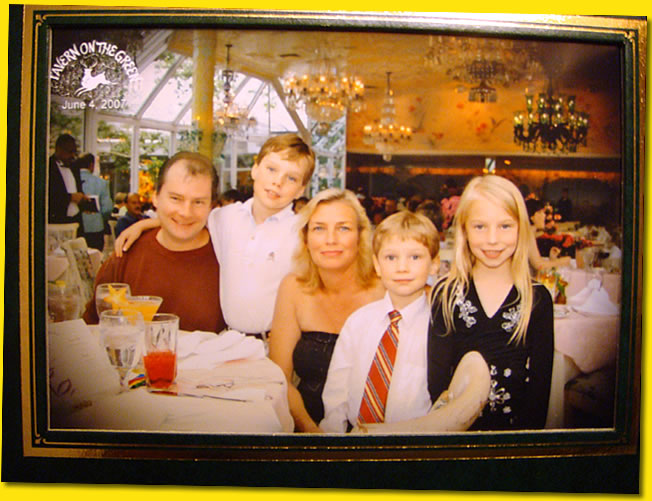 After dinner we took a horse-drawn carriage ride through Central Park

And a stretch limo ride back to the hotel for Alex, Ashley and Max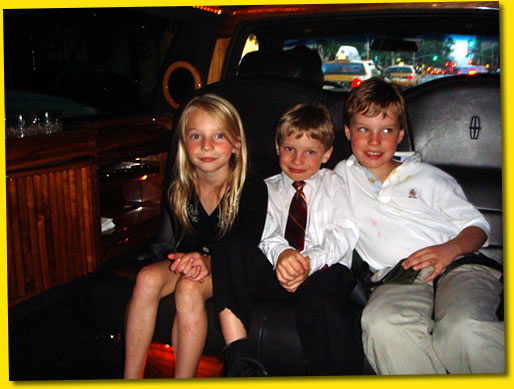 Starting with a Bus Ride - Day 4

$350 fine for honking your horn in New York City? Yeah right...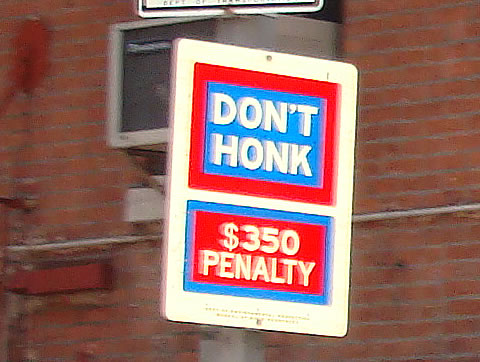 The Famous Merrill Lynch Wall Street Bull. The sign of an optimistic market!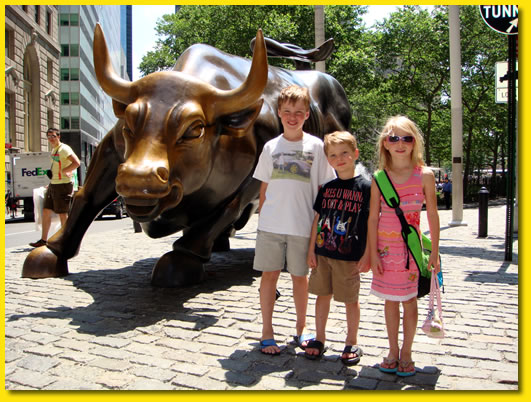 This was a giant art statue at the World Trade center on display for years. It remained remarkably in tact on the day of the attacks, and was moved to the park outside of the Statue of Liberty and Ellis Island ports. It will eventually be on display in a 911 museum.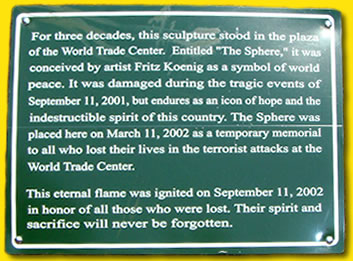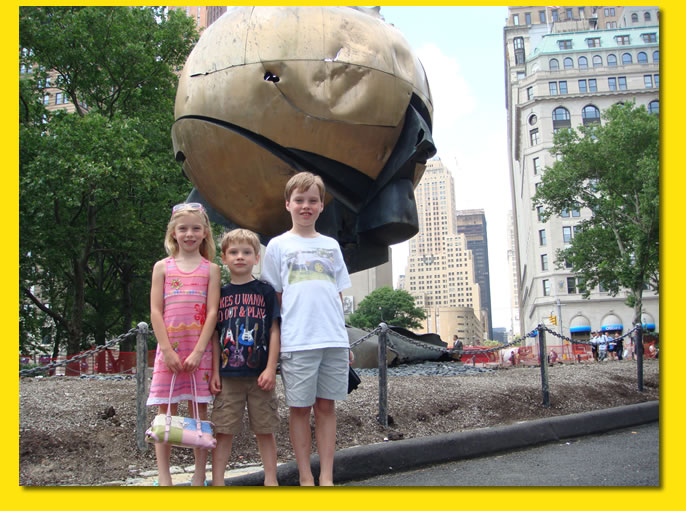 Statue of Liberty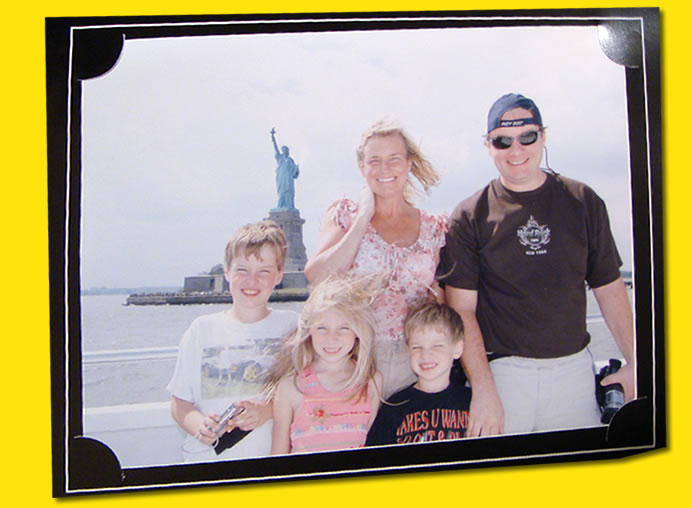 We ended the day with a great dinner at the Rockefeller Cafe and tour of the "Top of the Rock"!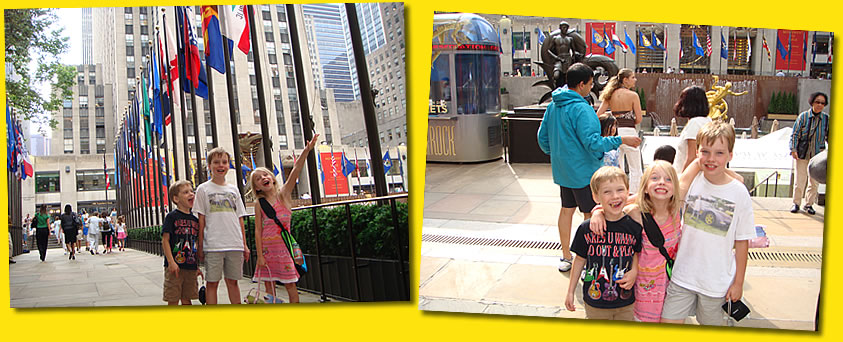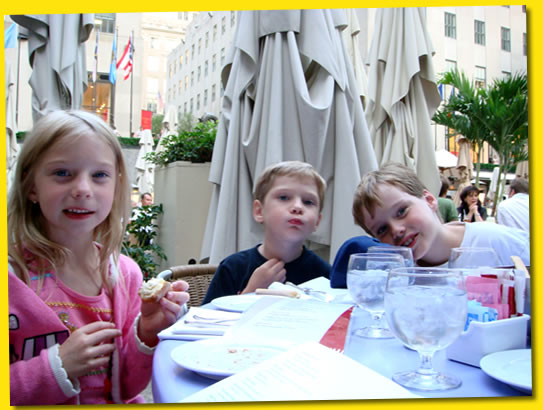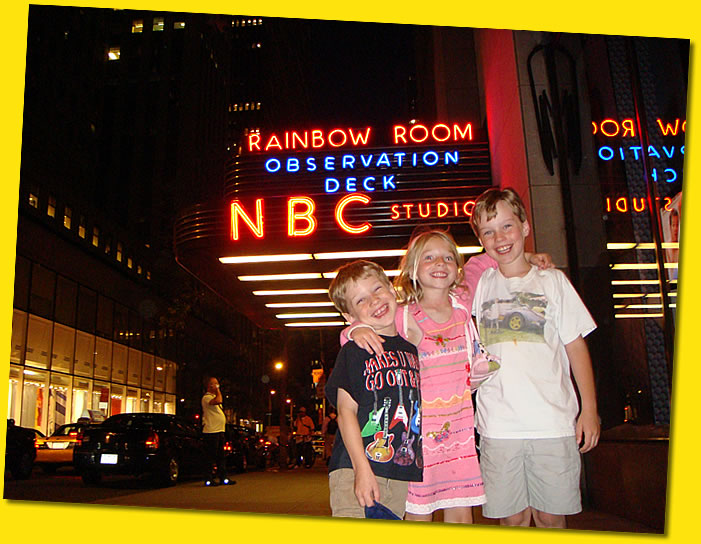 The Today Show - Day 5
We turned around and went right back to Rockefeller Plaza to hit the Today Show. We were on TV twice! Then left for breakfast...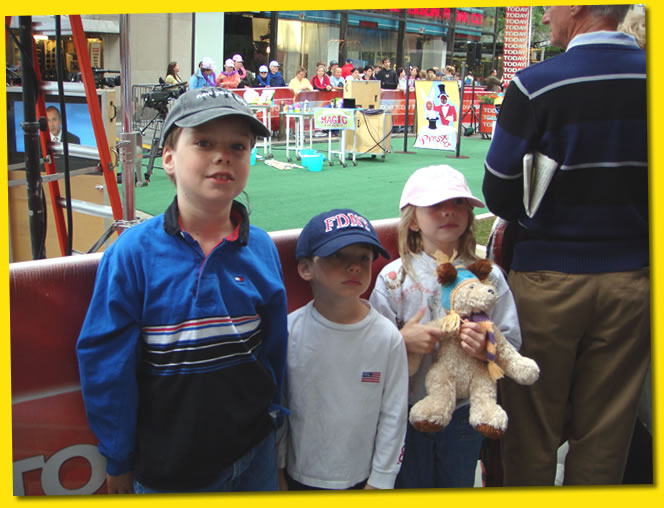 These pictures were taken by the NBC photographer. They gave us a website address to "buy" our pictures and disabled the right mouse click to stop people from copying the images for free... My 12 bucks is still in the bank (he he he...hmmm, how did he do that?)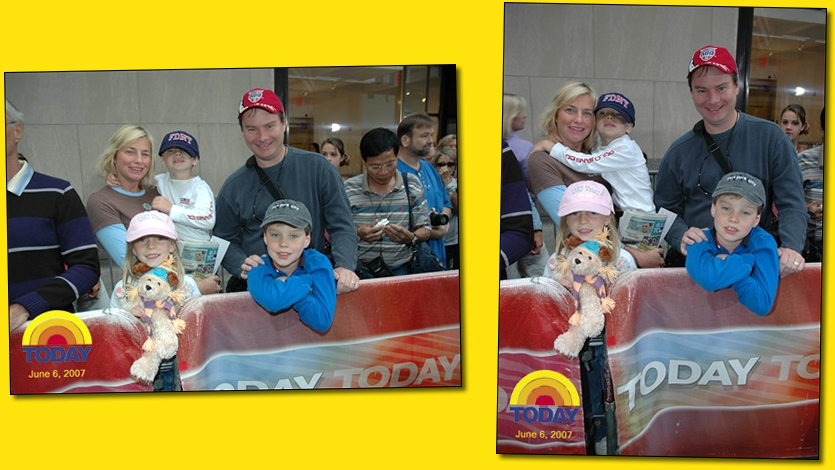 Empire State Building (again)
We returned to the Empire State Building for another try at the observation deck. But first, we took the subway to get there! On the subway we saw a homeless guy sleeping face-down on some newspapers, and we saw a real NY city rat. The kids were worried about the sleeping guy, wondering if he was dead. The concept of homeless, and seeing it first hand, was a great discussion we spent a lot of time on.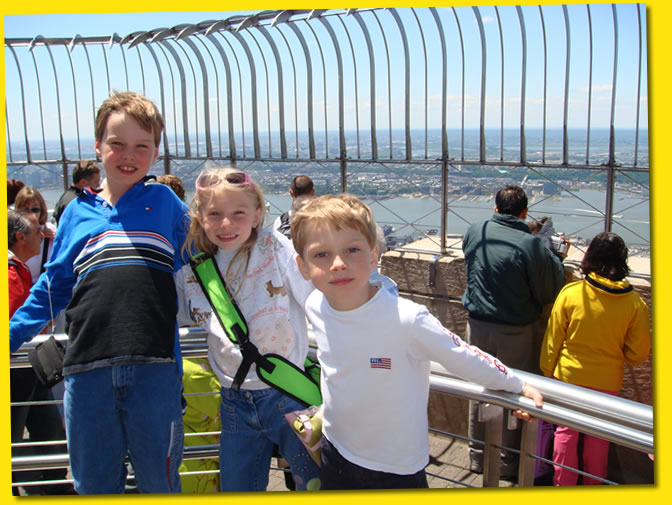 We got up early for the Today Show...Max (white shirt) was pretty-much grumpy all day.

We spent a lot of time on these red busses during our trip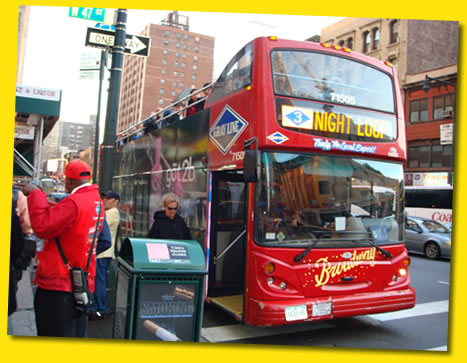 Our last night in NY. Max had a major wardrobe failure on Times Square (R)...You gotta' do what you gotta' do!

Spider man must be bored after finishing Spidey 3. He was hanging around Times Square Wednesday Night. (L) We also did some last-night late-night shopping at several souvenir stores late at night (R).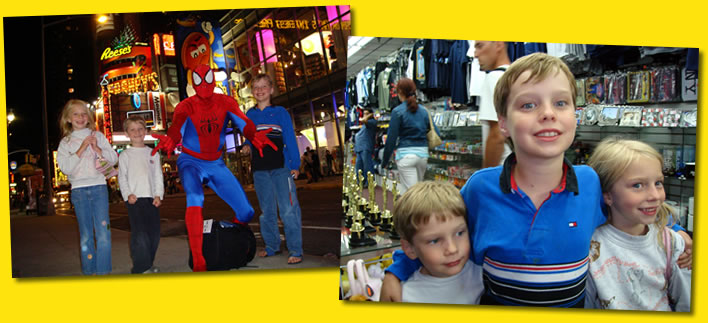 As humans we owe a debt of gratitude to Spider Man. He has saved countless people and is dedicated to the protection of all innocent bystanders. We should thank, appreciate, respect, and even fear his awesome powers. Spider Man does not deserve "bunny ears" and clearly 8-year old Alex needs to learn how to appreciate the value Spider Man brings to all mankind.
I just hope Alex never has to face a battle with evil because he will be on his own. As his father...I'm sad about that.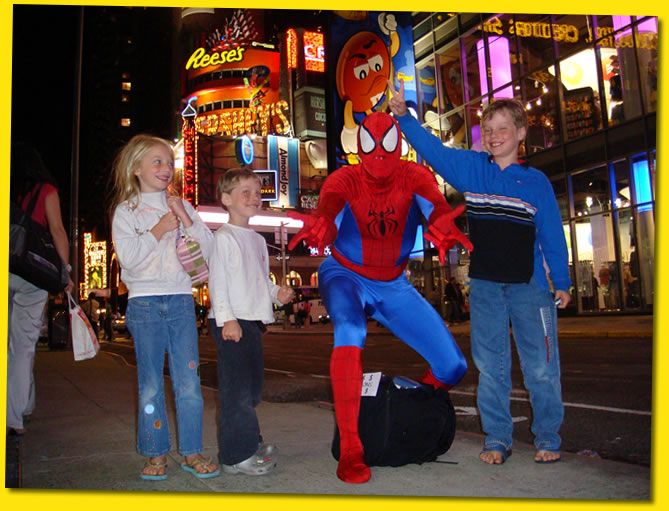 Day 6, Going home
At La Guardia on our way home. Guys, did you have a great time?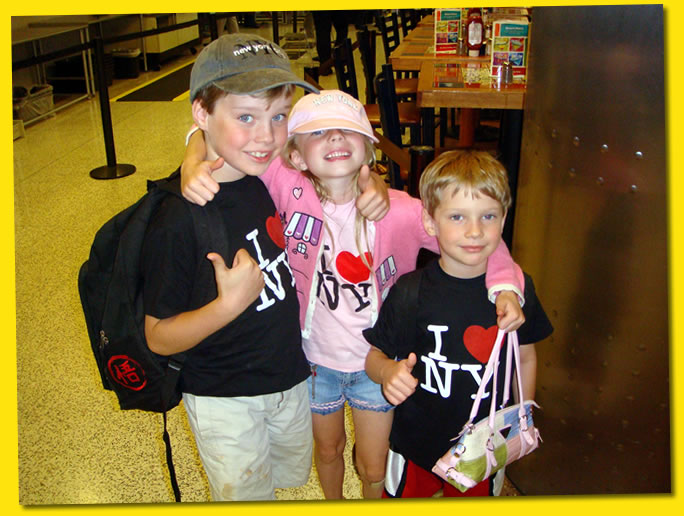 This was one our most expensive vaca's ever...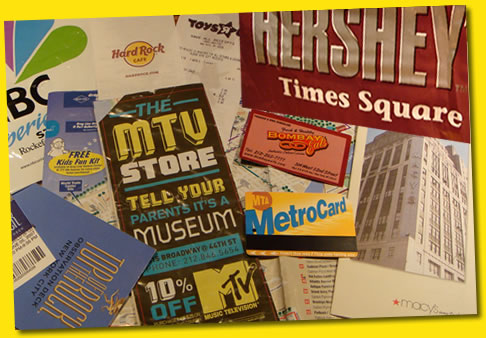 Expensive but well worth it. We all had a great time. Max enjoyed a beverage on NWA.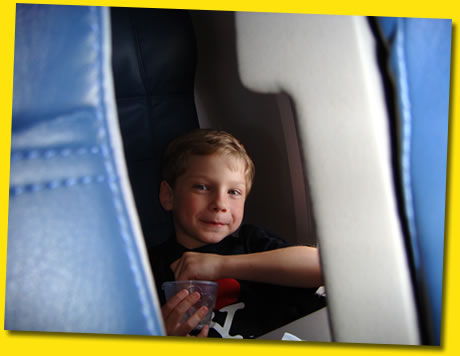 Ashley snuggled into her "Da-Dee's" lap and was sound asleep before take-off as we flew home...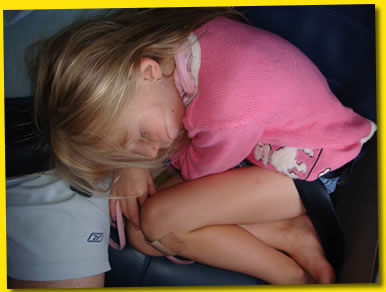 This was the first of two trips we did back-to-back. Click to see what we did next!

Return to jetsvettes, Corvette Collectibles and Corvette collection.